....There are various possibilities to use the contents of these things. You don't want always to eat the same thing two days running, and often you can't freeze some of the things!
It's impossible to eat everything most of the time in the Diner, so - doggy becomes a small problem....!
I've made loads of different dishes from so called "left-overs", the latest was from my 6(!) grilled lamb chops, and it's easy.
Together with the "
gravy
" from
KFC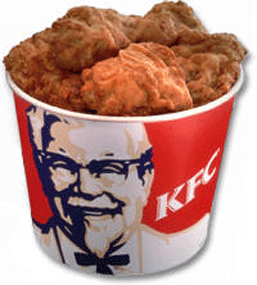 (which I NEVER use with the chicken) a little
Marsala
or
Madeira wine
,
some garlic, some water, you simply let the juices cook the 4 "left over" lamb chops, slowly and gently, until you've got the consistency of sauce (no longer gravy) you want!
Bottle and glass of 5 year old Madeira wine. This dessert wine is medium dry. (Photo credit: Wikipedia)
Take the
mashed potatoes
from KFC as well, mix in some
grated cheese
, an
egg yolk
, some cream - stir over a low heat till the mixture is creamy and smooth then put the chops in an oven proof casserole, surrounded by creamy potatoes, put the chops in the serving dish covered with the sauce (like this photo but with the chops under the sauce)
cover with aluminium - 10 to 15 minutes in the oven - SERVE.........!
Hey - thanks to the Diner and KFC you've become a Cordon Bleu! ......
Diner (Photo credit: Jayjay P)
Even people (you know who I mean) who hate chicken and lamb are very enthusiastic, at least about the delicious odour coming from the kitchen........