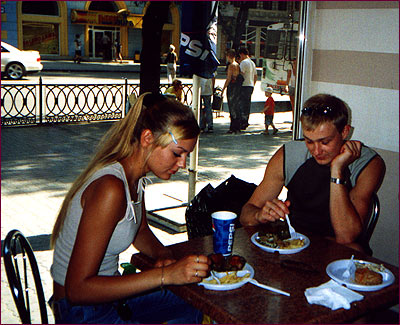 ...where do you think this is? No - it's not there, it's in RUSSIA and it's not -20C nor is there vodka to be seen everywhere. This link gives a bit about Russian specialities, after all they have to eat as well:
http://www.tristarmedia.com/bestofrussia/food.html
and this link goes to images of the very famous, popular foods from the same country!
https://www.google.fr/search?q=russia's+famous+food&sa=X&tbm=isch&tbo=u&source=univ&ei=_KGLUvO_IoST0QXgroHACw&ved=0CGEQsAQ&biw=1092&bih=520
I recall some years ago having contact to a member of a French family who worked in Russia and used to bring many things back with him.... don't know how often I've eaten these specialities, with enormous pleasure...
Blinis, Goulash, Schlaschliks, Stroganof,Veal Orloff and thousands more.....
Here's an invitation.....go fishing on the mighty Volga....a video to watch
http://www.euronews.com/2013/05/13/astrakhan-fishing-on-the-volga/
Have fun.......